This is a guest post from my good friend Lisa Sicard. Lisa has already written an ebook and provides tips on what to avoid when publishing one. Enjoy!
Tips on What Not To Do When Publishing An eBook
SO you have started to write that eBook or are thinking about writing one. Do you have a plan after your eBook is completed? Writing an eBook may be the easiest part of it all. Promoting it and selling editions of it may a bit harder. You need to come up with a plan for that prior to hitting the publish button. Let me explain more why.
Don't Take Too Long Writing the eBook
Why you may ask? Because it will take a lot of work and energy to complete writing the eBook. Don't procrastinate once you decide to do it. Write, write and then write some more. Proof it after you have completed it. Have someone else proof it, pay for the service of a proofreader. Save yourself some energy for promoting the eBook. It goes back to the old 80/20 rule. 20% of your time should be producing content and 80% of your time should be for promoting it.
Don't Wait to Promote – Start Promoting the eBook Before Publishing
This one is a must. Promote it prior to going live with the eBook. Give people a reason to look for it and for them to anticipate reading it. Remember the song Anticipation?  "Anticipation, anticipation Is makin' me late, Is keepin' me waitin' "
Promoting the book prior is a psychological booster for you to finish writing it too. Now that you've announced it to the world, you must finish it, right?
Don't Stop Promoting the eBook – Promote the eBook Continuously
According to expert eBook writer Ryan Biddulph:
"The biggest eBook promotion mistake is being timid about promoting your eBook. Most folks may put on a huge blitz when the eBook is a free giveaway then the promotional crickets come out and they stop promoting the thing when it is full price.
This is a class money mental block manifest; when you attach a price tag to something, less people want it….which is totally untrue. Promote your eBook as freely when it is at a premium price, as when you gave it away from free.
 Also, continue to promote it via your sidebar, via calls to action on blog posts and most of all, keep guest posting and blog commenting and building your friend network to boost sales.
Don't rely on Amazon alone to spread the word for you via your free giveaway and reviews. Help other bloggers out, make friends and these folks will become eBook customers and many will also promote your eBook, spreading the word and boosting your sales in the process."
Ryan Biddulph, Blogging From Paradise (Skype: ryan.biddulph2)
Don't Ignore Other's eBooks – Buy and Review Them!
Another tip is to read and review other's eBooks. This will help you get known more on Amazon and as an author. Of course, read books of interest to you. Don't just read an influencer's eBook for the sake of it, be genuinely interested in it. You will not want to stop reading it and offer a review afterwards.
Reading other's eBooks before writing yours is another tip I would highly recommend as a must. Get familiar with how others do them. Read at the very least 5-10 other eBooks before writing yours.
Don't Be Afraid to Do a Giveaway for Your eBook
Giving away your eBook is not a bad thing, just keep it to a limited time. Amazon offers flash sales and giveaway contests. You could give it away on your blog for a limited time if they sign up for emails. You could offer it as a prize on a Twitter chat or Facebook contest. Just be sure to follow their guidelines for giveaways.
Don't Be Shy and Ask for Reviews of Your eBook
If someone says they read or bought your eBook ask for a review on Amazon. Email them or message them privately. Don't beg but ask nicely and they will probably gladly give you a review. If they haven't written an eBook they don't realize the importance of reviews.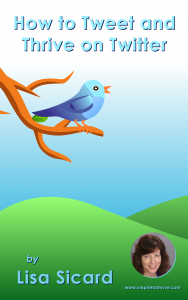 Don't Be Afraid to Price Your eBook Fairly
After all your hard work you will want to price your eBook correctly. I sell mine on Amazon for $3.99. Do be sure to check with other eBooks for your page count are going for on the network you are using to sell your eBook. Think about having a sale, and then pricing it above that sale price too. As Ryan stated above, don't be afraid to promote it just as much when it's full price as when you are giving it away. Something I too need to learn to do, thanks, Ryan!
Don't Miss an Opportunity on Your Blog About Your eBook
This is a big mistake I did. I did not do a blog post announcing the eBook. I do have a page for it but not a post announcing it or about the eBook. People love reading your posts so why not include one on the latest eBook? Tell them why you wrote it, what inspired you, etc.
Don't Forget Your Call to Actions on Your Blog Posts
You could incorporate your call to actions on each post or page about the eBook. Remind people to purchase it. In fact, the direct marketing association says it takes a person 7 times to see a message before they respond to it with a purchase or inquiry. That is 7 Times! Think about that one. That is an eye-opener for sure.
Don't Forget to Have Fun Publishing Your eBook
If you don't like what you do, you will not be successful with it. In conclusion, do have some fun along the way writing and promoting your eBook. If it's a major task for you to do you will not likely do another eBook again. Just ask Ryan, he's published over 120 of them.
I'd love to know if you have written an eBook did you promote it often or not? Will you be doing another eBook in the coming future? If you haven't will you consider doing one now? Please leave a comment below so we can discuss.