Some people like physical books. They like the feeling of browsing through a book, feeling its pages, taking notes the old-fashioned way (with a pencil or a pen).
Me? I'm a technology aficionado. I like to adapt to technology changes and import these in my everyday life. Therefore, I like eBooks more than anything. And for me, these are the top reasons why an ebook reader is better than any physical book.
Carry a whole library of Books at any time
Imagine having your digital library with you, anytime, 24 hours a day. That's what an eBook reader is capable of. You can have as many books as you want, at the time that you want them, with notes and highlights. And all that at a fraction of the weight of a single physical book.
Sync books between devices
Devices such as Amazon's Kindle (as well as other readers) have apps for all types of devices – Android, iOS, phones, tablets, you name it. And with their syncing technology, you can continue on your phone, where you stopped on your eBook reader. This allows for much more reading when usually, you will be scrolling your Facebook timeline when e.g. you are waiting for a doctor's appointment. Been there, done that. Many times. Anywhere, anytime. Even while waiting for friends to show up for a cup of coffee 😉
Change the font as per your needs
A physical book has a spe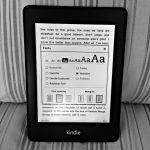 cific font, font size, margins, and spacing. And this, of course, cannot change. This means, get your magnifying glass, your reading glasses, and a light – if it is dark. An eBook reader (as well as reading apps from mobile devices) allows you to change this to fit your needs.
And with a back lit e-Ink or e-Paper display – a special type of display which emulates the paper feeling, your eyes will not be strained. And me, as a night-owl who likes to read at night before bed, I can read without a light – thus keeping my wife happy sleeping 🙂
Buy a book and start reading instantly
eBook readers allow for browsing through the respective bookstore's collections. When you like a book, you can download a sample and start reading it. If you like the sample, you can buy the book – provided that you have a payment method set up- download it (provided that your devices have Internet access – most are equipped with Wi-Fi Technology), and start reading!
You can even use the manufacturer's (e.g. Amazon's or Apple's) site or mobile app, pick a book, send it to your reader and… have fun!
Oh, one last thing: You can add any book you want on your ebook reader.
Look up any word instantly
Don't know the meaning of a word you stumbled upon? Have no fear, eBook reader dictionary is here. Just pick the dictionary you want – it will be downloaded in seconds, provided your device is connected to the Internet- highlight the word, and voila! The meaning of the word pops up on your screen, along with example sentences for you to understand the meaning. This is a great way of looking up and learning new vocabulary, without having to carry a dictionary (another physical book) with you at all times! This feature is also present in mobile apps as well!
As a bonus, some readers, allow you to save those words and come back any time to check the meaning of any word or even see the words you have looked up!
Check reading progress at a glance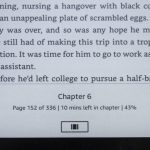 Kindle
and Kobo devices have a feature that is really interesting – but might keep you awake all night, trying to finish another chapter. This is reading progress. As you can see in the picture below, a user can see in real time the page they are on (the only common with physical books), percentage completed, and time left to finish the chapter and the book – based on your reading speed.
See why you might stay awake all night to finish "one more chapter, five more minutes"?
Over to you
So, what do you think? Have I persuaded you to make the shift to eBooks? What else would you like an eBook reader to have? Please let me know in the comments below. Thanks!